EMPOWERING OUR COMMUNITY TO RECLAIM HEALTH AND VITALITY THROUGH PLANT-BASED NUTRITION AND CUISINE.
Dr. Dulaney "Ask the Doc" + Booksigning & Potluck Dinner on August 27, 2019
Naples Green Scene and Island Walk's Blue Zone Group are hosting an "Ask the Doc" special with Dr. Dulaney + Book Signing & Potluck Dinner. Dr. Dulaney, Whole Food, Plant Based cardiologist, has launched a Whole Food, Plant Based Cookbook!
Our Mission is Strong
We promote a whole foods, plant-based lifestyle.
Rich in nutrient-dense and organic foods.

The Naples Green Scene (NGS) had humble beginnings as a Meet Up group that has quickly grown into a plant-powered community!
Founder and author of The Green Scene Diet, Linda Berson, began adapting her husband's and her own lifestyle to whole foods, plant-based and oil-free in order to combat heart disease. She quickly observed the lack of social events and community that catered to this niche lifestyle and was determined to change that! With the intention of creating community and social events that would cater to those who had begun to eat plant-based and oil-free for health, Linda began the Meet-Up group. Since then, Linda has passed the baton to Michelle Joy Kramer and a small committed team. They have expanded the group past 800 members and begun a wide variety of education based events, spreading the NGS mission throughout the health community in Naples.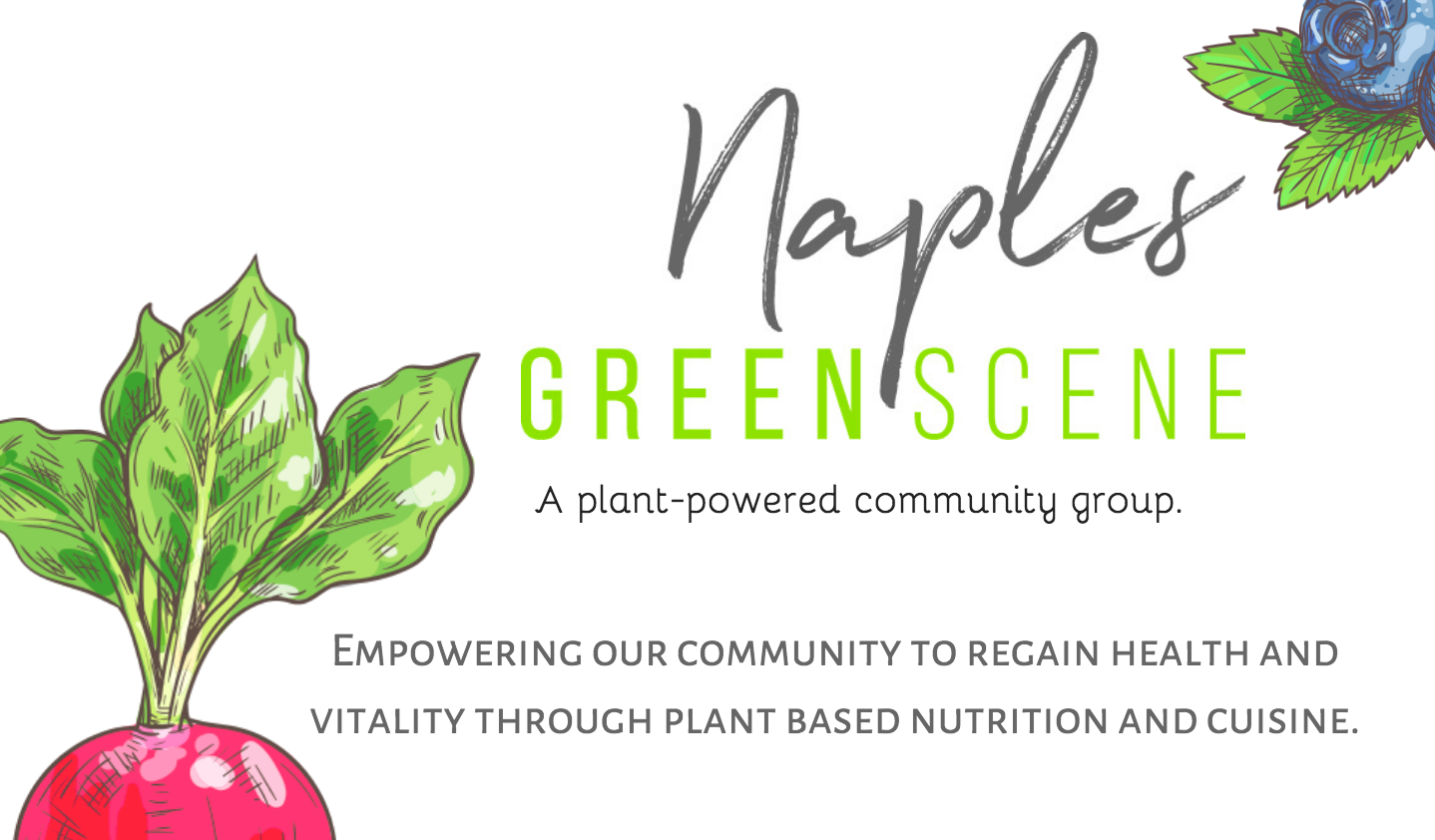 WE HOST MONTHLY EVENTS TO CREATE AND EDUCATE OUR COMMUNITY.
DISCUSSES EVIDENCE-BASED WEIGHT LOSS ON MARCH 1, 2020
The Green Scene Diet

book has been endorsed by America's renowned disease prevention doctors; Dr. Caldwell Esselstyn, Dr. T. Colin Campbell and Dr. Neal Barnard.
The Naples Green Scene offers events such as nutritional talks, community social events, and cooking demonstrations, catered to educating on the health rewards of a lifestyle focused on whole, plant-based foods. Collaborating with nationally recognized physicians and plant-based health experts, The Naples Green Scene will teach you how to start and maintain a plant-based diet to obtain optimal health. Our events will empower you to go beyond medication and surgery to take your health into your own hands.
NGS also works with local businesses and restaurants to create menu options and adaptations that fall within this lifestyle – implementing new, whole food, plant-based and no-oil options for our community. We want you to experience the fullest potential and possibilities that this lifestyle can offer - education, sociality, and fun!